January 21, 2021 12:19 PM EST
Attention MDOT SHA contractors,
Effective January 25th, SHA will be rolling out an update to BidX Project Bids (EBSX and/or the amendment files) for all existing proposals not yet bid and any future solicitations. Additional details on the updates are described below.
Update Part 1 (DBE/MBE participation): During the addition of DBE / MBE prime or sub-contractor information, the sub-goal information will be calculated automatically.
Once the Bid quote amount is entered and "Used as" option is selected, the list of radio buttons to check is limited to only the applicable option. For example, if "Supplier/Wholesalers/Regular Dealer - Furnish Only" option is selected, only the radio button for Line 3.2 is available. Once option 3.2 is selected, the supplier percentage is calculated.
Only Line 3.1 and Line 3.3 will be available when these selections are applicable (only 3.1 option for DBE & 3.1 & 3.3 for MBE). The corresponding percentage is calculated automatically.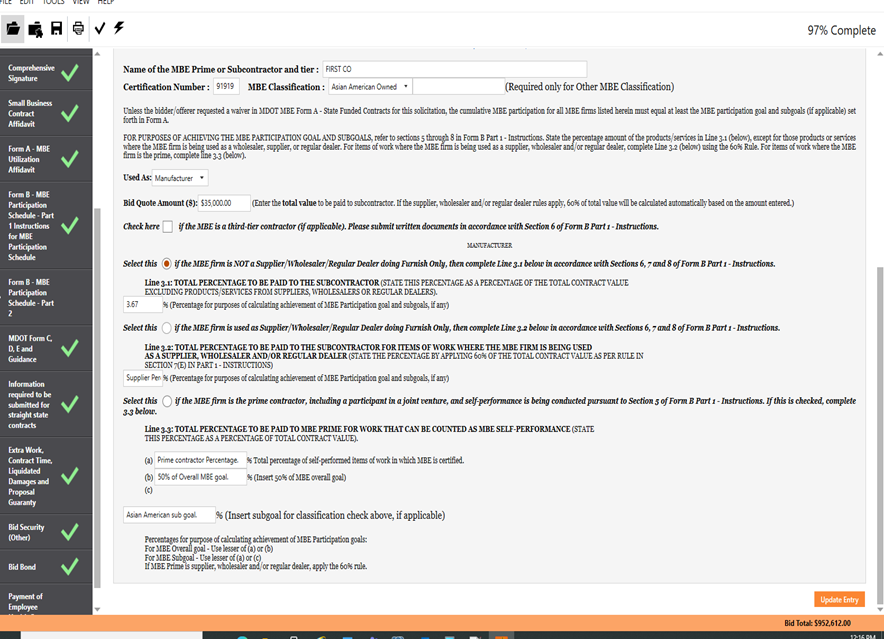 Update Part 2 ("Mobilization and Demobilization" Cap): When specified in the proposal, a Bid Cap for the "Mobilization and Demobilization" item will be verified to be < 3% of "adjusted bid total value". Please refer to the special provisions for these proposals.
In the example shown below, the adjustable bid total value is $1,084,518.00 (before adding the bid cost for Mobilization and Demobilization). The 3% cap limit value will be $32,535.54. If your inserted bid cost for the Mobilization and Demobilization item is more than $32,535.54, in this case $40,000.00, upon saving the bids or by clicking the check bids option, an error message will identify this issue. You can override this message and still submit your bid, but you will be doing so knowing that the IFB indicates that the bid shall be rejected.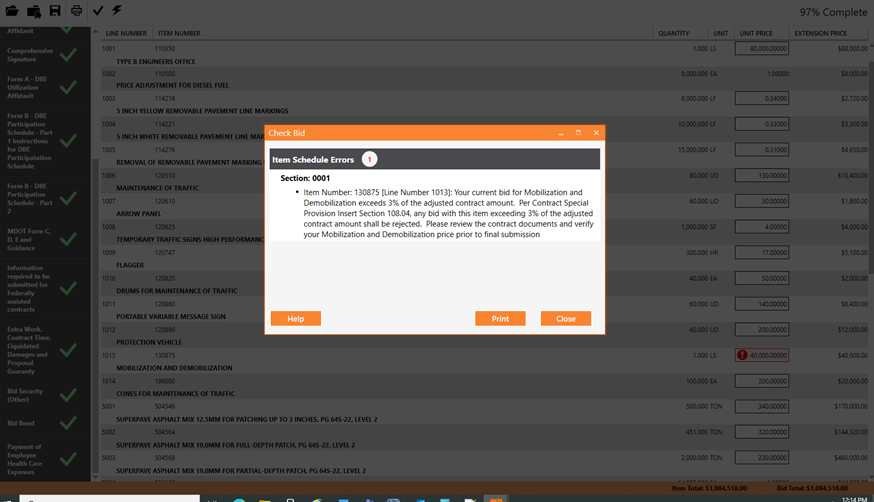 Update Part 3 ("Tab order"): The tabs in the EBSX (or amendment file), have been sequenced to default order (as used to appear in paper format).


December 28, 2017 10:15 PM EST
Update to Traffic Barrier Standards: In accordance with the joint agreement between American Association of State Highway and Transportation Officials (AASHTO) and the Federal Highway Administration (FHWA) about the implementation of the AASHTO Manual for Assessing Safety Hardware (MASH), the Maryland Department of Transportation State Highway Administration (MDOT SHA) has revised few standards listed in the Book of Standards for Highway and Incidental Structures. The following standards are revised: MD 605.23, MD 605.26, MD 605.27, MD 605.28, MD 605.28-01, MD 605.31 and MD 605.32. These revised standards pertain to w-beam traffic barriers and are available online. These standards apply to all projects that are let (i.e., bid open) after December 31, 2017. Prospective bidders are to take notice of this revision.
December 08, 2017 09:42 AM EST
There are three situations when a bidder MUST re-attach ALL the attachment files when resubmitting a bid:
MDOT SHA postpones a proposal to a different letting date;
MDOT SHA postpones a proposal and then re-uploads the proposal to the same letting where it was originally uploaded; or
MDOT SHA withdraws a proposal and then reposts that proposal to the same letting where it was originally uploaded.
Re-attaching attachments means navigating to EVERY attachment location in the ".ebsx file" and re-selecting the attachment using the 'Browse' button, prior to re-submission.
August 30, 2017 12:11 PM EDT
For all highway improvement and highway maintenance projects advertised on August 29, 2017, or later, the Maryland Department of Transportation's State Highway Administration will accept only electronic bids. The bid needs to be submitted at www.bidx.com/maryland/main. Paper bids will not be accepted. Instructions on electronic bidding are available here.
July 11, 2017 11:08 AM EDT
Maryland Department of Transportation's State Highway Administration (MDOT SHA) has uploaded the vendor information to the www.bidx.com website. Contractors are now welcome to register/ sign-up on the website for e-bidding with MDOT SHA. The MDOT SHA will move all highway construction and maintenance projects to electronic bidding platform by the end of the 2017 summer. At that time, paper bids or bids on CDs will no longer be accepted for projects. Contract documents will continue to be made available through eMaryland Marketplace at no charge. Registration and a paid subscription are required to submit bids through the internet-based Bid Express system. Potential bidders are informed that the registration process takes up to seven business days. A bid extension will not be granted for delays in registration and/or errors in submission of electronic bids. For more information about Bid Express registration and subscription, please visit https://www.bidx.com/site/registration. Please call 410-545-8840 or email us at MdotSHABidX@sha.state.md.us for questions regarding MDOT's implementation of the Bid Express system.